Two years ago, on a sunny terrace of a coworking in Madrid, Syrus (Wasmer Founder & CEO) and I met on the recommendation of Wiqar Chaudri, Wasmer's Product Manager at the time.
By then, Wasmer was a small team of four people working remotely. Currently, there are ten of us, and we work distributed across five continents.
Syrus and Wasmer wanted to ensure the newly created team would be cohesive and work happily. He asked me if I could help with that. The next day, my Wasmer journey began.
The beginning: The fundamentals
"There are three constants in life... change, choice and principles" – Stephen Covey
We sat down and discussed challenges, apparent weaknesses, and strengths. Suppose a CHO (Chief Happiness Officer) has the opportunity to work side by side with a CEO for the first weeks and a couple of months of the role at a new company. Happiness Managers sometimes have to try to convince the board or the different department's managers about the need to put values, wellness and People in the centre of the Company to make the project grow in a smooth, exciting and sustainable way.
In our case, there is was no need to convince anyone, both of our views matched and complemented each other. This is the ideal scenario because by being close to the founder, we can start reviewing culture from the roots, the essentials.
We began to write down the values, they had to be honest and timeless. It could not result in a dead letter but a fundamental reference for all of us. Syrus shared his thoughts and opened his heart widely and somehow we both translated his learnings into the principles of our culture. Please check this if you feel curious about it: https://wasmer.io/values-and-culture
Meeting in person, "the human behind the role"
"The meeting of two personalities is like the contact of two chemical substances: if there is any reaction, both are transformed." – Carl Jung
My first challenge was to help take on the organization of a company meeting that was going to take place in three weeks. We decided it would be in Madrid, so in my first event of this type in Wasmer, I could take closer care of the details. It was a great experience to be together and share moments of work, team-building activities, leisure, eating, and dining together. We also made cool SWAG for the occasion.
After Madrid, there were meet-ups in Valencia, Lanzarote, and Marrakech. And we found out that they were critical team experiences to form a cohesive team.
Consecutively, we refined the experience, and today, we have achieved a balance and expertise, which makes us enjoy the meet-ups, and we are looking forward to the next one.
Regular contact is vital
"Science may never come up with a better office communication system than the coffee-break" – Earl Wilson
It is amazing how we forget about distance when we meet regularly, not only for work but to share daily facts, play virtual games, celebrate, be aware of our mood, and know each other better. We met everyone's pets and even some cute babies and celebrated birthdays during coffee-breaks. Shared human experiences keeps us sensitive and related. The virtual office can be a warm and funny space to stay connected.
Welcome to your new adventure - What makes a good onboarding?
"A table full of welcome!" – William Shakespeare
We created a more sophisticated onboarding process. Welcome is crucial for a new person. A job change is a transition in our lives, and it is motivating if it feels smooth, pleasant, engaging, and stimulating.
Our onboarding process now lasts from three to five days; there are introductory sessions on each aspect of the product by the people who work directly with each company project. The mission, vision, and methodology are explored with the CEO. All the process is supported by a mentor, who assigns the first tasks to the new mate (so the new hire can be really in touch with the role and project from the beginning). In the People session, we review the values, talk about the culture, and present the VPP (Value Preposition for People) that recognizes five well-defined aspects: compensation, recognition, culture and leadership, benefits, and development and career.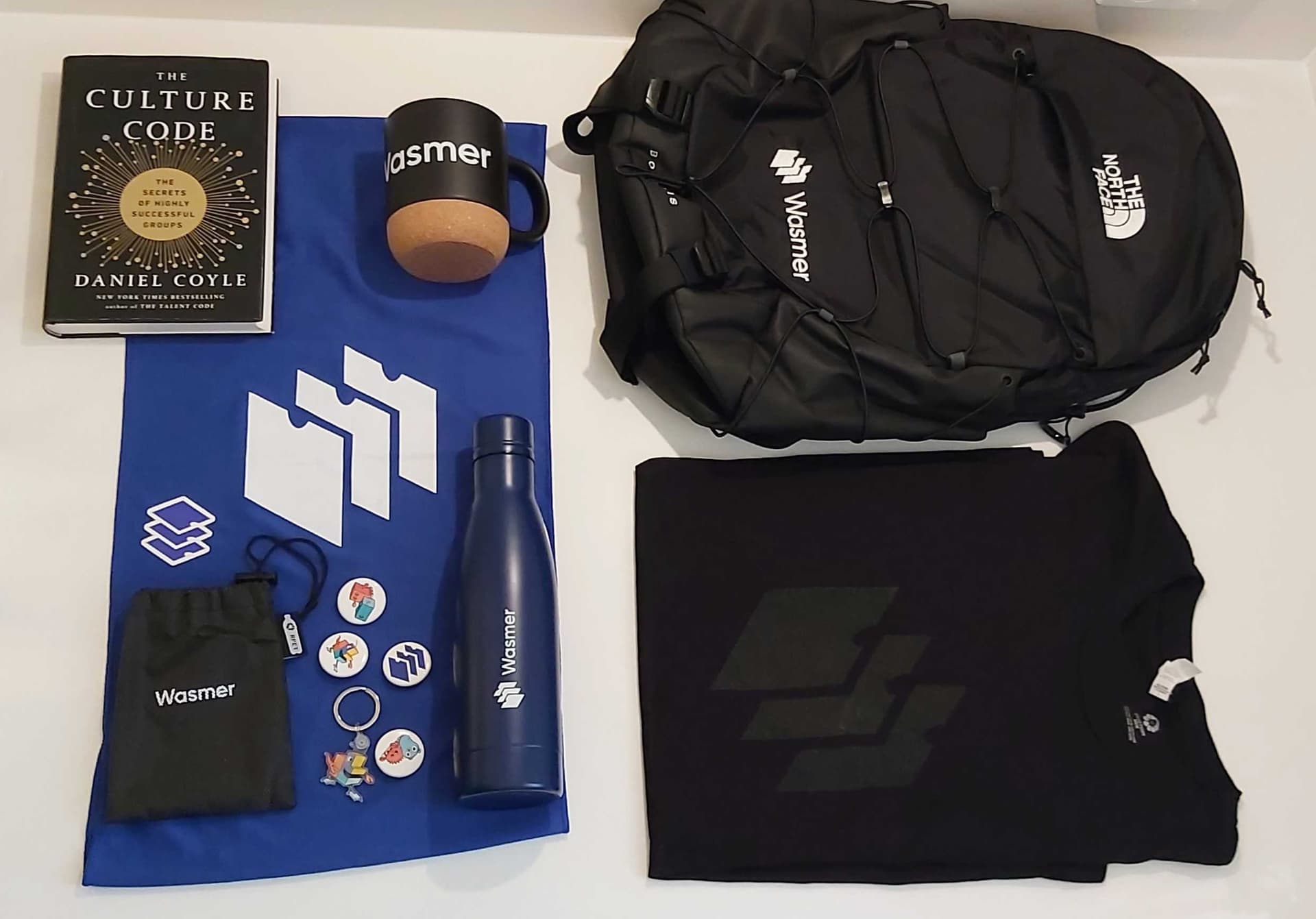 During that month, we are sending our new mate some cool Wasmer SWAG as a Welcome Pack, which has been very well received so far in so different locations around the world! 😃
Transparency and continuous feedback
"It doesn't make sense to hire smart people and tell them what to do; we hire smart people so they tell us what to do." – Steve Jobs
One of the most attractive things about working at a small start-up is that everyone's perspective and feedback counts. It is crucial for continuous learning. Every quarter, I give the team a well-being and satisfaction survey. Consistently, transparency when communicating company information is rated with the highest score.
We regularly share feedback through 1:1 meetings with the manager (both tell each other what can be improved in each one and the other, as well as recognize the strengths in both). In People's 1:1, we see different aspects of each person's well-being, such as the sense of progression, the balance in task planning, and the quality of communication with the team and manager. Also, in the Retrospectives that we do every three weeks, each person expresses what they think has gone well and what can be improved and suggests how to do it, and in the surveys that we do in the Wellness area (those mentioned every quarter) or those that we fill out after a specific event (A meet-up, or a company al-hands, for example).
Find the cultural fit
"There are no extra pieces in the universe. Everyone is here because he or she has a place to fill, and every piece must fit itself into the big jigsaw puzzle" – Deepak Chopra
One of our recent and valuable learnings is that once the culture is established and validated, we need to check the compatibility for candidates at the last stage of the hiring process. It is not only crucial that the person is very talented.
If there is considerable compatibility in culture and the candidate aligns with the project's vision, they may enjoy the project, and together we will create something valuable.
We could go into great depth in separate articles on these points. Furthermore, a company's culture is dynamic; it is alive, and the different stages over time will define the need for the culture to transform and evolve.
What we have been doing together so far works since the fundamentals of the culture are solid, and we know that they work because we enjoy working at Wasmer. I hope you find this information somehow useful.